"Check your ego at the door." is the driving thought when artists Bruce Bachelder and Mike Rende set out to create their collaborative art.
Sometimes the artists each start a painting and then hand it to each other to complete.  While they can follow the original vision for the painting, it's always more interesting when they don't and something even more unexpectedly creative erupts onto the canvas.
Lately Bruce has been doing a lot of abstract blown ink art and Mike has strived to give their paintings a narrative framework that gives the blown ink meaning.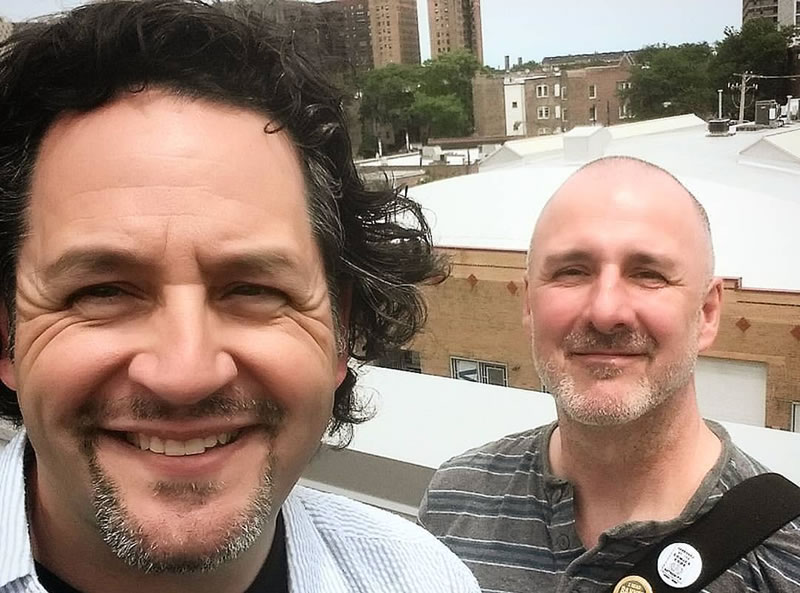 Bruce Bachelder
Bruce graduated from Northern Illinois University with a degree in drawing.
In college Bruce started doing what we referred to as "Art Fights", in which two (or more) artists would collaborate on one painting in an attempt to expand their own understanding of composition, color use and artistic expression.
So his next professional step seemed obvious—return to this method and push it to the next level.
Bruce spends his days helping pets in need at an animal eye clinic or making art even more beautiful at a frame shop where he works part time. Do you need something professionally framed? If so, accept Bruce as your 'Personal Framer'.
His nights and weekends are spent with his wonderful twins…and painting!
Mike Rende
Mike is also a Northern Illinois Graduate with a Painting degree. His artistic 'fights' with Bruce began back in college and continue to this day.
He is a founding member of 'Oddball Art Labs', an organization that has curated many interesting group art shows in Elgin including: "Calling All Robots", "FezFest" and "Cheesecake: Seconds Please!".  His work is often displayed in many group art shows at Side Street Studio Arts in Elgin, IL
Mike's days are filled by his web design and development business, sitebyMIKE. If you are in need of a website, please feel free to contact him.
His nights and weekends are filled with ART!